Global | Commercial applications
Is your city prepared to address the risk of floods?
SaferPlaces provides incredible insights for flood risk anticipation in any city, worldwide.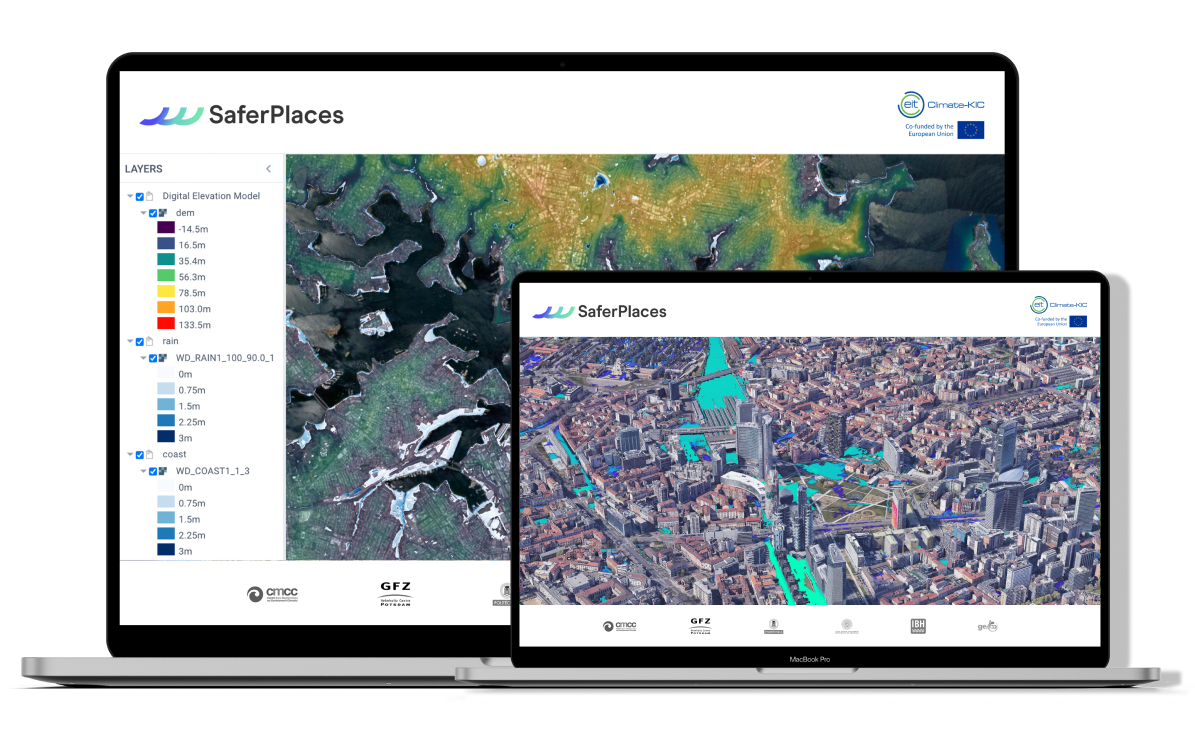 Background
Nowadays due to increasing anthropogenic pressure, such as soil sealing in cities and increase occurrence in extreme weather events, cities have been experiencing more and more severe flooding from different sources of hazard such as fluvial, pluvial and coastal. As water and flood management in many European cities are not up to the challenge, significant losses occur, in both economic and human life terms.
AI-driven Flood Intelligence in everyone's hands
SaferPlaces makes use of Artificial Intelligence, satellite and geospatial information, and climate data (real-time, forecasting and climate projections) to assess the risk, the extent and the damage on city infrastructure of coastal, pluvial and fluvial floods and help every city worldwide in building preparedness and climate resilience.
Simulations and results run and can be visualized in a Digital Twin model of the city, created by integrating high-resolution data from WEkEO, Copernicus, Google Earth Engine (GEE), Open Street Map (OSM), Microsoft Planetary and AMAZON.
Helping cities turn climate resilient
SaferPlaces provides key insights into flood risk by making high-resolution information and data-driven algorithms accessible also to non-expert users, in every city worldwide. SaferPlaces supports risk-informed decisions and enhances cities' resilience by providing:
Assessment of the effect of mitigation and adaptation measures for flood-related disasters and losses prevention
Early warning systems based on rapid flood prediction for a better emergency management
Investments advisory in preventive resilience-oriented solutions, with particular emphasis on Natural Based Solutions to reduce economic and humans losses.
SaferPlaces is a demonstrator project funded by Climate-KIC and supported by the EIT, a body of the European Union.
Key features
Designed for scalability and high performance
Users can run in real-time high-resolution multiple floods simulations under changing climate scenarios in any city in the world.
Created for everybody
Making Flood Risk Intelligence accessible to non-expert users with innovative data-driven science-based AI algorithm.
Economic impact assessment
Compute the economic damages associated with each climate scenario, to prioritize resilience-oriented investments.
Benefits of WEkEO for SaferPlaces
SaferPlaces makes use of several datasets provided by WEkEO. WEkEO was chosen for its:
Easily configurable access to its product catalog
Access to the most up-to-date data from the Copernicus service, directly from the source
Responsive technical support team
Contact us to know more about SaferPlaces.