Europe | Scientific applications
New HR Vegetation Phenology and Productivity service
The new High Resolution Vegetation Phenology and Productivity (HR-VPP) service enables better monitoring of vegetation dynamics and assessment of climatic and anthropogenic impacts on ecosystems.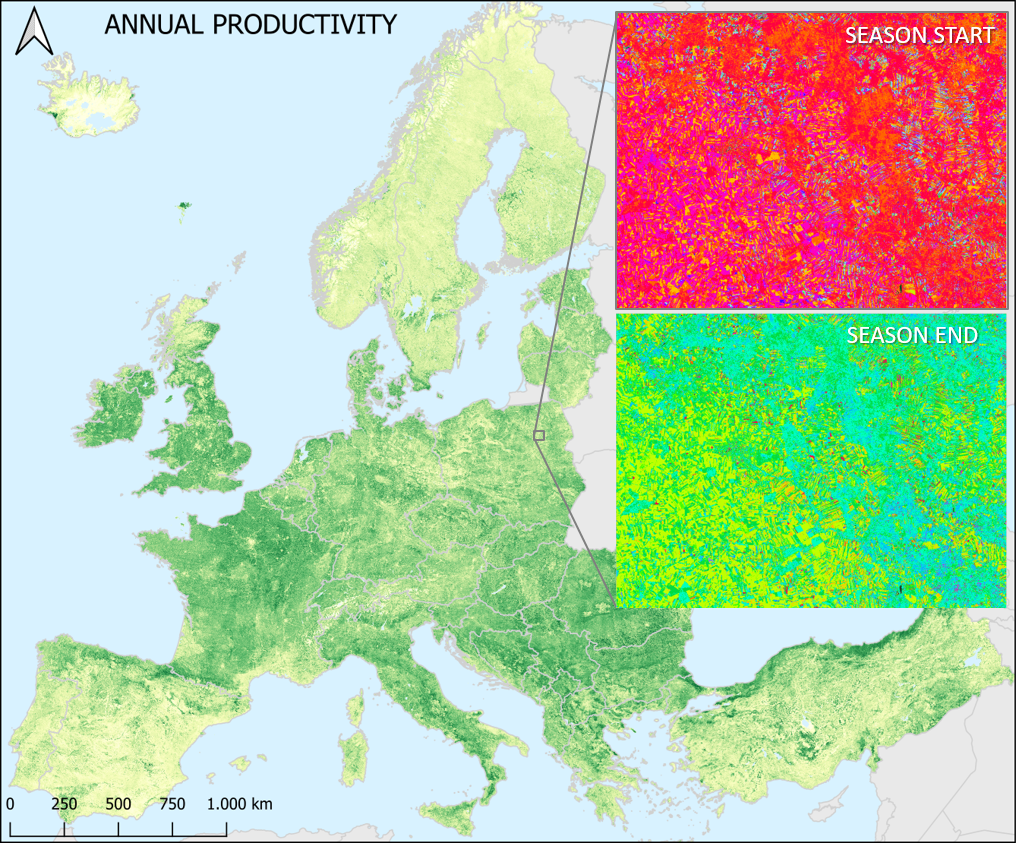 Relevance
In HR-VPP phenology is defined as the timing of the development of photosynthetically active leaf foliage (Copernicus Land Monitoring Service, 2022). Phenology is a key indicator of flora and fauna's growth and reproduction, and of how ecosystems respond to climatic factors and human-induced disturbances.
As phenology information allows monitoring of the spatial pattern, status and inter-annual variability of ecosystems, it has also strong potential in monitoring their condition and degradation.
New high-resolutions products
The new product suite offers three types of products:
The products cover the entire EEA39 region (33 member countries and 6 cooperating countries) from 1st January 2017, with a spatial resolution of 10 m, derived from the Sentinel-2 satellite constellation. New tools will be released soon to support the use of the big dataset.
Applications
Plant phenology is an indicator for several events characterising the natural seasonal cycle such as birds nesting, insect emergence, migration patterns, food webs and global cycles of water and carbon, among others. For this reason, it is also used to forecast pollens spreads and allergy risks and by utilised by farmers and gardeners to plan fertilization, pesticide and plant to avoid frosts.
HR-VPP products will increase the potential of the Copernicus Land Monitoring Service to serve policy requirements such as the Biodiversity Strategy 2030, the Common Agriculture Policy (CAP), Climate initiatives such as the LULUCF regulation for 2021-2030, the Urban Agenda, the Circular Economy policies of the EU as well as the UN Sustainable Development Goals.
HR-VPP products have been created for Copernicus Land Monitoring Service by the European Environmental Agency and VITO.
Key features
Very High resolution
Information is delivered at 10x10 m spatial detail
Improved applications in agriculture and urban monitoring
Finally enabling monitoring of crop type and crop rotation as well as urban green areas, to assess effects of NBS.
Assessment of vegetation responses to disturbances
Capability to monitoring land degradation and human influence to support better environmental planning actions.
Benefits of WEkEO for HR Vegetation Phenology and Productivity service
The HR-VPP data is stored on the WEkEO cloud and the processing from Sentinel-2 L1C data is done via automatic workflows on the WEkEO platform, using the CloudFerro elasticity backend. WEkEO offers several advantages:
high scalability (up to 800 virtual machines in parallel) to generate more 900000+ files and 80 TB of data per processed year
Free view and data download to users
Offering complementing environmental data from the four Copernicus services (marine, atmosphere, climate and land), directly from the source
Capability to perform analysis without the need to download all datasets.
Contact us to know more about HR Vegetation Phenology and Productivity service.