Mercator Ocean International new capacity building actions using WEkEO
4 November 2021
Mercator Ocean International is increasingly mobilised on the development of capacity-building actions. Included in the UN Sustainable Development Goal 17 "Partnerships for the Goals", the process of capacity-building implies the global strengthening of skills and resources needed to achieve the SDGs, through the increase and improvement of technology, data collection and monitoring. For instance, for the SDG14 "Life Below Water", Mercator Ocean International is developing learning activities, offering its scientific and technical expertise and providing data and computing resources through various projects thanks to WEkEO
AI for Earth Monitoring MOOC
MOi has joined EUMETSAT, ECMWF, and the European Environment Agency to co-produce the Artificial Intelligence (AI) for Earth Monitoring Massive Open Online Course (MOOC). Funded by the Copernicus Programme, this six-week MOOC is primarily dedicated to scientists, policymakers, educators, business owners, and students interested in data science combined with Earth Observation (EO) and Machine Learning (ML).
More than 7,000 registrants have joined the course to get a comprehensive overview of the Copernicus Programme and the wealth of EO data it provides, as well as how AI and ML are transforming the interpretation of EO data. A module is particularly dedicated to the Copernicus Marine Service and ocean monitoring. Participants are granted access to the WEkEO platform, the EU Copernicus DIAS, a 'one-stop shop' for Copernicus and Sentinel satellite data and services. Through the WEkEO platform, participants can work with EO data, using the Python programming language and Jupyter Notebooks and benefit from skilled user support.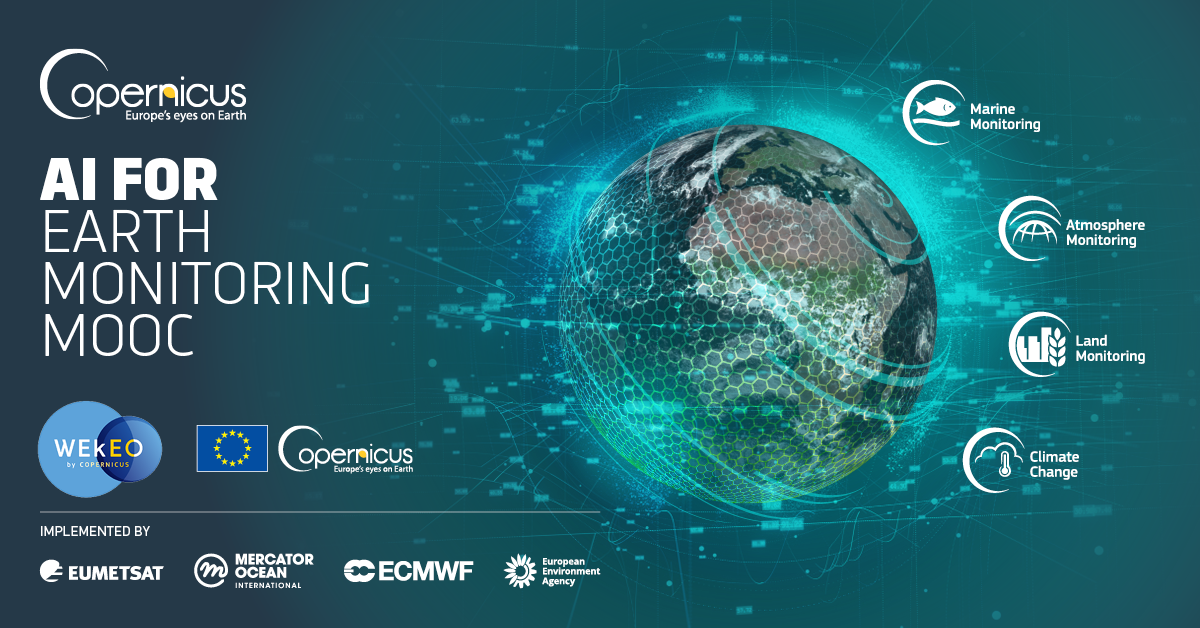 2nd CASSINI Hackathon
CASSINI (Competitive Space Start-ups for Innovation Initiative) is a European initiative to support entrepreneurs, start-ups and SMEs in the space industry, and the use of European satellite data. Among its actions figures the programme CASSINI Hackathon & Mentoring, addressing six encompassing themes. After a 1st edition on the digitization of green spaces, the CASSINI Hackathon returns from November 5 to 7 2021 to address the challenges of the Arctic region. With this 2nd edition on #ConnectingTheArctic, the CASSINI Hackathon aims to show how European space technologies, including Copernicus data, can help to access, understand and protect the Arctic. It will take place simultaneously across the European Union in 10 different countries, including in Toulouse, France, hosted by Aerospace Valley in its innovation centre B612.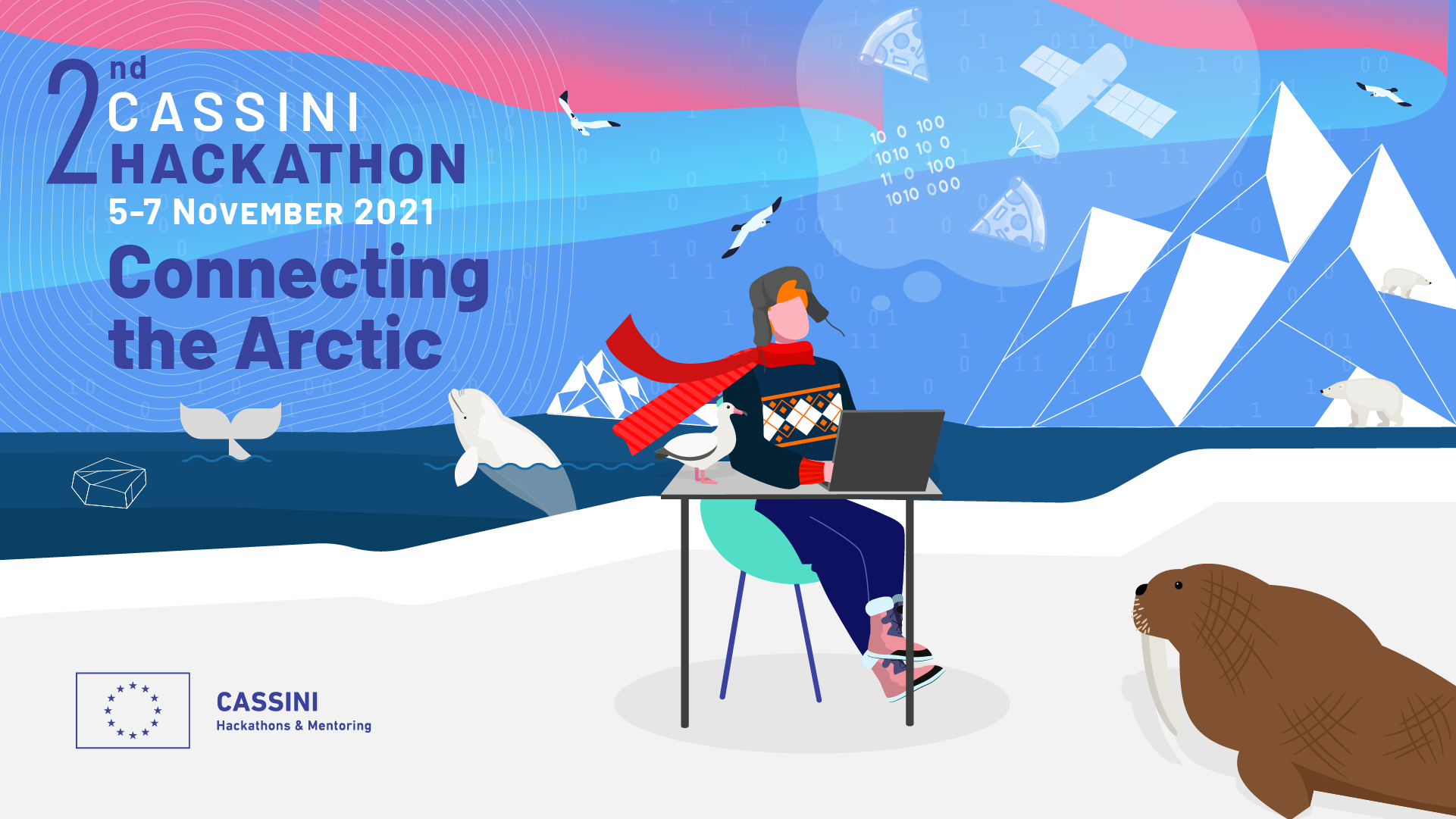 Each participating team will be invited to choose from one of three challenges:
Safe passage at sea: Participants will design products, devices or services that could enable container ships and liners to navigate the Nordic seas safely.

Life on land: Participants will design products, devices or services that could enable human societies, plants and wildlife to better adapt to climatic conditions in the Arctic.

Caring for our wildlife: Participants will design products, devices or services that could help protect biodiversity and natural wildlife habitats in the Arctic.
The WEkEO platform will enable participants to discover, manipulate and download Copernicus data and information, granting access to access to pre-processes Copernicus data, virtual storage and computational resources for the duration of the hackathon.
Winning teams will be offered additional mentoring and expertise, access to incubation programs, and many more gifts.
6th Ocean Hackathon
The Ocean Hackathon is an initiative by Campus Mondial de la Mer which encourages the use of various digital data related to the sea, in order to develop in teams a prototype addressing an ocean challenge. The sixth edition will take place from November 5 to 7 in 14 cities worldwide with hosts including innovation hubs, startup accelerators, business support organisations, Embassies, city councils, academia and research centres. Participants will be supported throughout the Hackathon by numerous experts of data science, IT, marine science, business…
More than 100 ocean challenges are proposed to participants to focus on, with topics including climate, pollution, ecotourism, fisheries and aquaculture, energy, maritime safety, navigation, spatial planning… To address these, participants will have access to a large variety of data sets and will be supported by data tutorials and coaches. Among the data partners of the Ocean Hackathon figure:
Mercator Ocean International and Copernicus Marine Service, which provide information and data on the blue (physical), white (sea ice), and green (biogeochemical) ocean state, variability and dynamics across the global ocean and European regional seas.

The WEkEO platform, which provides access to Copernicus Data, but also to virtual storage and computational resources, access to JupyterLab for processing the data and to tutorials and user support.