Copernicus 2 kicks off – ensuring the continuity of WEkEO by the European Union
October 13, 2021
The second phase of Copernicus from 2021 to 2027 (often referred to as Copernicus 2) has kicked off.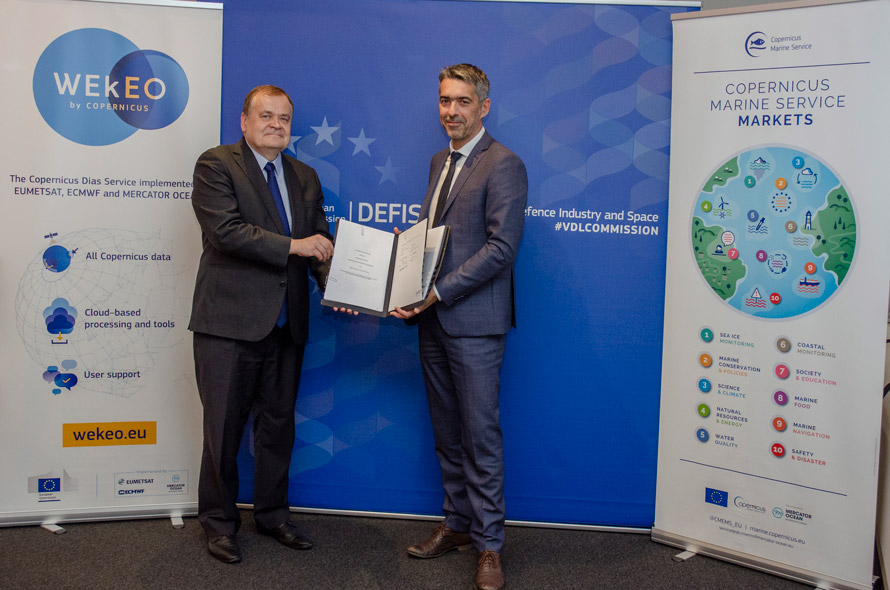 Timo Pesonen, DG DEFIS Director-General (left) and Pierre Bahurel, Director General of Mercator Ocean International (right)
WEkEO is developed jointly by EUMETSAT (leading cloud infrastructure and system engineering support), ECMWF (leading data access and tools), Mercator Ocean International (leading user support, web presence and marketing) and EEA (sharing its Copernicus Land expertise). The European Commission has renewed contracts for the Copernicus WEkEO DIAS Service with each of its entrusted entities EUMETSAT (on July 23 2021), ECMWF (on July 22 2021), Mercator Ocean (on July 22 2021) and EEA (date TBC).
The Copernicus 2 activities related to WEkEO and entrusted to Mercator Ocean (i.e. user support, outreach, web presence and marketing) have been kicked off with an event that took place in Brussels on 12 October 2021.
This event was hosted by the European Commission's Directorate-General for Defence, Space and Industry (DG DEFIS) – responsible for the Copernicus programme, the European Union Agency for the Space Programme and Mercator Ocean International (MOi) - the organisation entrusted with the implementation of Copernicus Marine Service and co-implementor of WEkEO.
WEkEO, a cloud computing platform, provides access to the catalogue Copernicus Service data (Land, Atmosphere, Climate, and Marine), the Sentinel portfolios as well as other supporting missions. Implemented by ECMWF, Mercator Ocean International, EEA, and EUMETSAT, its powerful infrastructure is a game-changer for users given is direct access to the data (with no copies) and high-performance computing capabilities. It provides industries in Earth observation, environmental organisations, national authorities, and businesses big and small the resources to create powerful Earth-data powered tools.
Timo Pesonen, the DG DEFIS Director-General, provided the opening key messages on the Marine's Service and WEkEO results and the European Commissions' ambitions for Copernicus and its Services in Copernicus 2 (2021 – 2027), part of which includes the DIAS services.
On behalf of the Marine Service, Pierre Bahurel, Director General of MOi presented the service's achievements over the last seven years and the road map for the next 7 years. __