WEkEO Online Webinar n.12 — Successful WEkEO Applications And New Business Opportunities
23 September 2021
11:00 CEST
Online
ECMWF, EUMETSAT, Mercator Ocean International, and the European Environment Agency are pleased to invite you to Webinar N.12 "Successful WEkEO Applications and New Business Opportunities".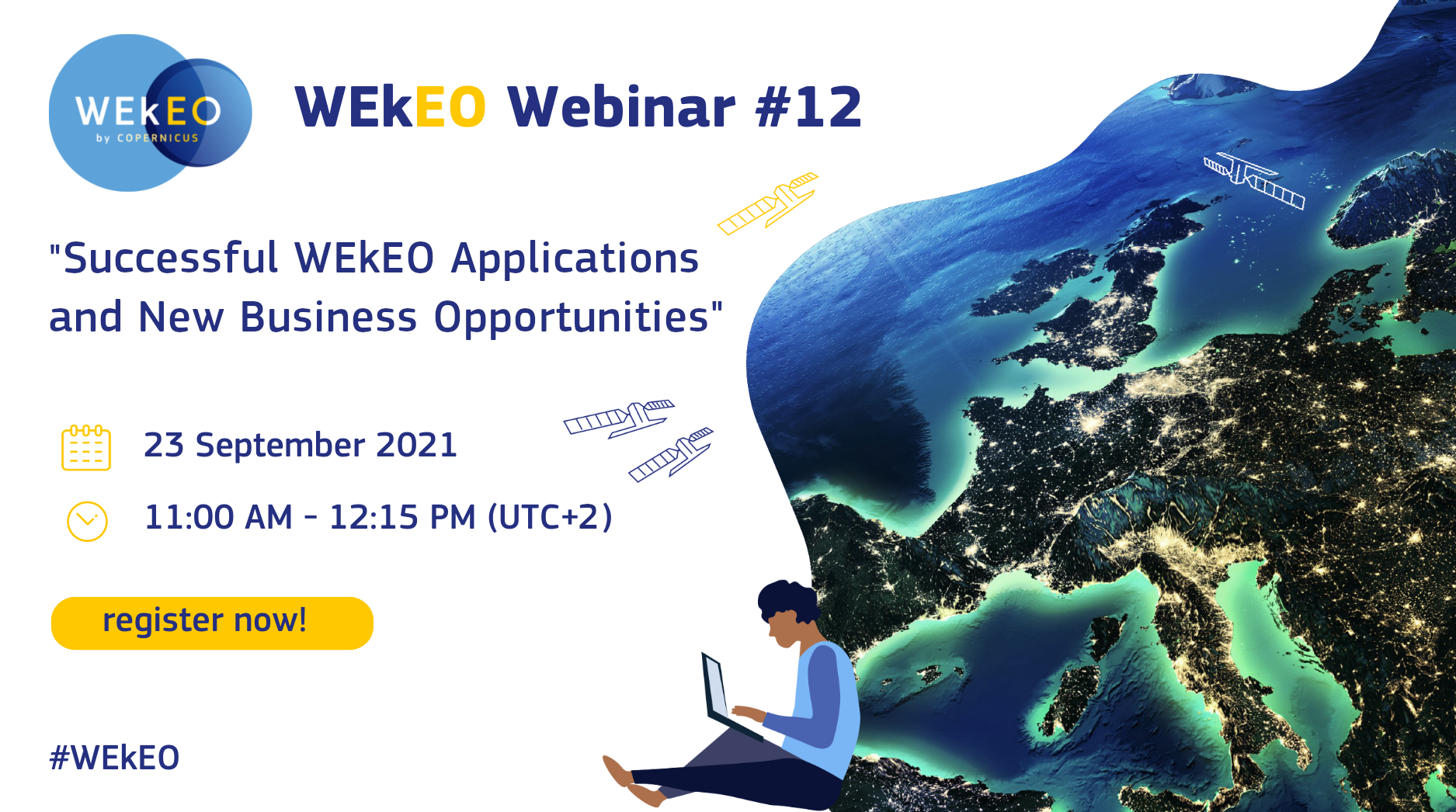 Context
The "Successful WEkEO Applications and New Business Opportunities" webinar is the last of the first cycle of WEkEO webinars. It will highlight the business opportunities and operational applications made possible by the resources available in the WEkEO platform. Three use cases will be presented.
During Webinar № 12, which is aimed more particularly at entrepreneurs or expert users, participants will discover how successful business or operational applications have been developed using Copernicus and Sentinel data in the WEkEO cloud computing environment. Users will also receive an overview of the many other applications enabled by WEkEO
​
Recordings of these events are available on WEkEO YouTube Channel.
A certificate of attendance will be issued after the event.
Objectives of the Webinar
Webinar № 12 will showcase to participants successful business or operational applications entirely developed in the WEkEO environment.
The event will include:
A general introduction on what WEkEO is and what it offers for scientists, private sector, international institutions and to the general public

A presentation of three successful applications entirely developed in/with WEkEO :

An "industrial" application, presented by Magellium. The presentation will describe the production process and the features of the Copernicus Land Monitoring Service HR Snow and Ice Product.
A SME application, presented by Lobelia. The showcase will introduce the Lobelia Air App for air quality monitoring and forecasting.
A scientific application, presented by CEOS COVERAGE. In this case, the showcase will be about Cloud-based platforms for Open science and applications.
The Webinar will be recorded and made available on the WEkEO YouTube Channel, together with other video material.
Leading experts in Earth Observation applications and WEkEO User Support specialists will be at the disposal of the participants to facilitate the exchanges and answer questions.
​
​
Agenda
Date: 23 September 2021 11h00 – 12h15 (CEST)